APPETIZER
Spring Roll
The light crispy fried spring roll you've been searching for served with plum sauce.
Calamari
Crispy fried calamari lightly crusted with rice flour served with peanut sweet and sour sauce.
Shrimp in a Blanket
Crispy fried wrapped shrimp with stuffed pork served with plum sauce.
Chicken Wings (2 wings)
Crispy fried chicken wings marinated with fish sauce served with sweet and sour sauce.
Jerky
Fried sun-dried pork or beef marinated with Thai herb until fragrant and cook served with Jaew sauce.
Rib
Crispy fried pork rib marinated with fish sauce.
Moo Ping
Thai style marinated pork skewer grilled to perfection served with Jaew sauce
Kai Yang
Grilled chicken. The dish is a standard staple of street market.
Larb
Spicy minced chicken or pork salad with fresh Thai herb and roasted rice powder.
Namtok Moo Yang
Spicy grilled pork salad flavored with roasted rice powder.
Gang Om (Pork/Beef)
Spicy gang om, an herbal curry soup, it's not a really soup and it's not a really curry. But it's classic broth.
Mok Nho Mai
This is food of northeast Thailand. Steam shredded bamboo with pork belly and other ingredients in a banana leaf.
Gang Nho Mai
Spicy bamboo curry is popular and traditional soup from Laos. Is made by cooking bamboo shoot with yanang leaf extract and mushroom.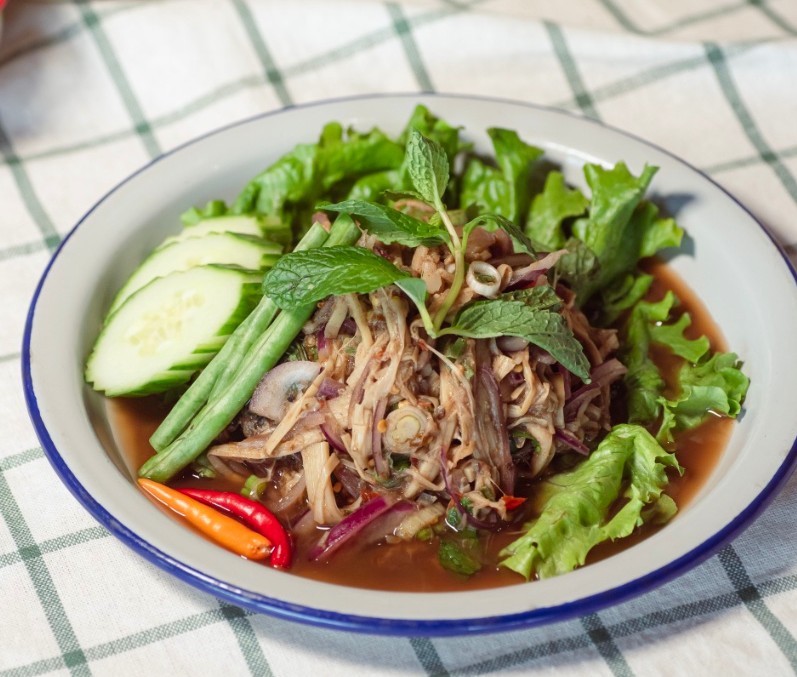 Sup Nho Mai
Spicy bamboo shoots salad with red onion and few greens flavored with roasted rice powder.
SOUP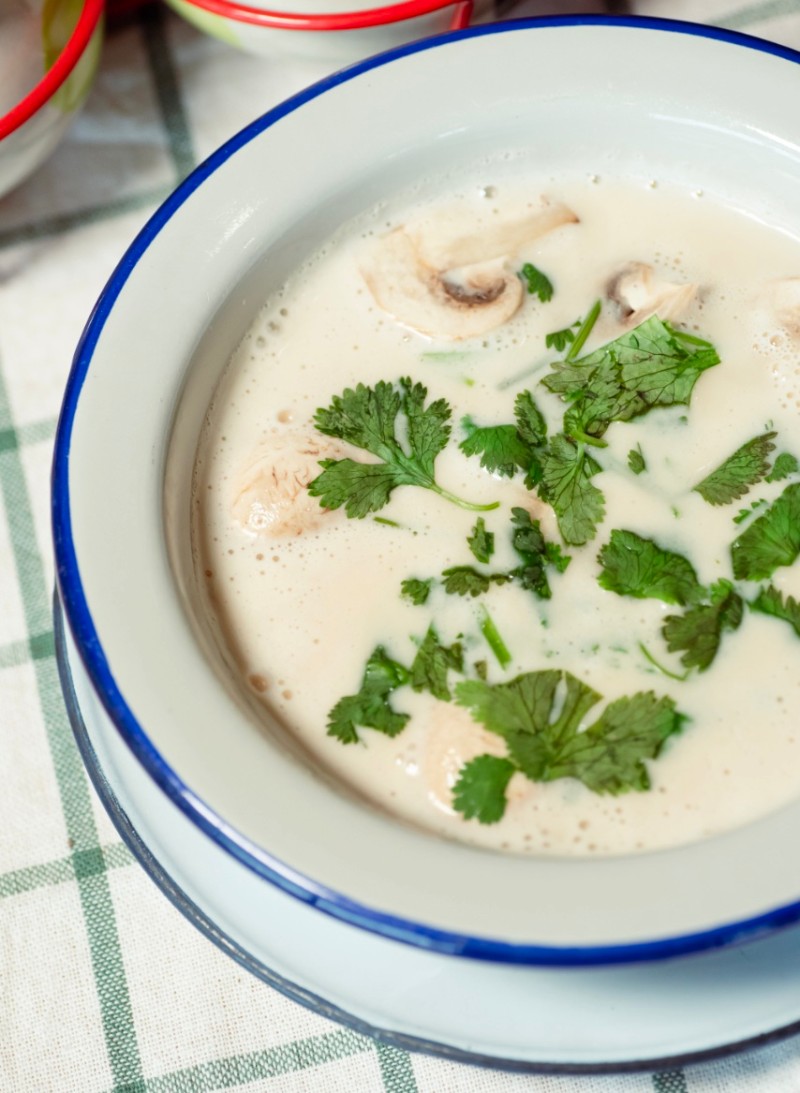 Tom Kha Kai
Thailand's famous coconut soup with mushrooms, flavored with lemongrass, lime juice, and chili.
Tom Yum Goong
Clear lemongrass soup with mushrooms has spice from chili paste.
Tom Zab
Hot and spicy pork spare rib soup favored with Thai herb and roasted rice powder.
SALAD
House Salad
Mixed green salad with tomato, carrot and peanut dressing.
Thai Lettuce Wrap
We propose our delicate chicken lettuce wrap made with grounded chicken, shiitake mushroom, water chestnut, and scallion top with crispy noodle.
Duck Salad
Crispy-bite duck tossed with red onion, celery, scallion, cilantro, cashew nut, and chili paste dressing.
Yum Woon Sen
Spicy grass noodles salad with grounded pork, moo yor, celery, tomato, red onion, scallion and roasted peanut.
Yum Naem Khao Tod
Lao crispy rice salad with pork fermented sausage, fresh herb and peanut.
Papaya Salad (Thai Style)
Shredded green papaya with dried shrimp and peanut topped with a spicy garlic and lime dressing.
SOM TUM
Isan's popular green papaya salad with chilies, garlic, tomato, etc. (ingredients).
Tum Pu
Som tum with salted crab.
Tum Pla-Ra
Som tum with fermented fish sauce.
Tum Pu & Pla-Ra
Combine salted crab and fermented fish sauce.
Tum Sua
Som tum pla-ra with "kanom jeen" vermicelli noodles.
Tum Tua
Long bean salad with salted crab and fermented fish sauce.
Tum Taeng
Cucumber salad with salted crab and fermented fish sauce.
MAIN COURSE
Serve with rice.
Kra Pao
Traditional Thai spicy stir-fried grounded chicken or pork with chill garlic and holy basil sauce. Served with crispy-edge fried egg.
Ginger Chicken
Stir-fried chicken with fresh ginger, garlic, mushroom, bell pepper, onion and scallion.
Garlic Shrimp
Stir-fried shrimp with fresh garlic cilantro and steamed vegetable.
Cashew Nut Chicken
Lightly fried tender slices of chicken breast with onion, bell pepper and mild roasted chili.
Buddha's Feast
Thai vegetable medley mixed with fried tofu and mushroom.
Fried Rice
Our version of the classic fried rice dish comes with egg, tomato and kale.
Crab Fried Rice
We call this dish "khao pad pu" wok crab meat with egg, onion and few greens.
Special Fried Rice
Combination fried rice with egg, chicken, beef, pork, shrimp, tomato, and kale.
Pineapple Fried Rice
Fruity fried rice with chicken and shrimp, egg, yummy chucks of pineapple, raisin, cashew nut, served in pineapple shell.
CURRY
Serve with rice.
Red Curry
The best Thai curry with bamboo, green bean, bell pepper, and basil leaf.
Green Curry
Thai classic curry in light green sauce with bamboo, eggplant, bell pepper, and basil leaf.
Massaman
Mild golden curry with potato, onion, carrot, and peanut.
Duck Curry
Traditional crispy duck in red curry with pineapple chunks, grape cherry tomato and basil leaf.
NOODLE
Pad Thai
Original thin rice noodles with egg, tamarind sauce, beansprout, scallion, and peanut.
Pad Kee Mao (Drunken)
Spicy stir fried flat noodle and plenty with basil, bell pepper, mushroom, and tomato.
Pad Si Ew
This is popular Thai street food stir fried flat noodle with egg and kale.
Pad Woon Sen
Classic Thai noodle dish stir fried glass noodles with egg, broccoli, carrot, tomato, onion, and scallion.
Kanom Jeen
Vermicelli noodle make from rice noodle served with fish coconut curry and soft boiled egg, beansprout.
Khao Soi (Chiangmai Noodle)
Choice of chicken or beef Northern Thai coconut curry noodle with boiled and fried noodle. Our version is the real deal, straight from the street of 'chiangmai'.
Kuay Jub Ubon
This is my favorite food for sure. Home-made fresh noodles served with pork spare rib soup and "moo yor" flavored with fried shallot and a few greens.
Duck Noodle Soup
Delicious egg noodles with roasted duck soup is one of the most popular Thai street food.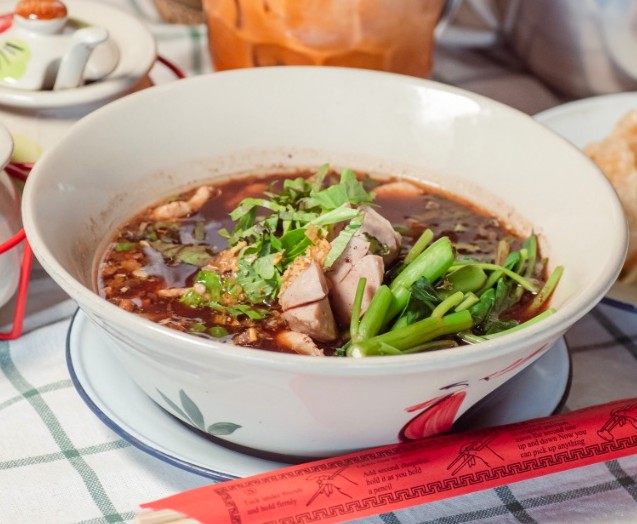 Boat Noodle Soup
Thai most famous noodle soup. Which has strong flavor with pork blood and some other spices. And it is normally served with porkballs, pork liver and pork cracking.
DESSERT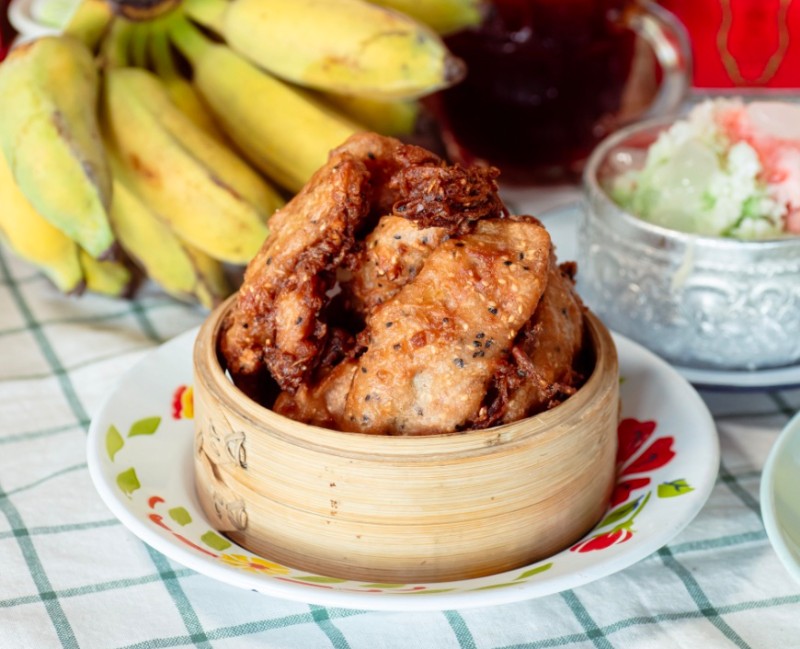 Kluay Tod
Thai fried banana is a popular snack in Thailand. Slightly sweet, but crunchy and delicious.
Coconut Ice-Cream on Bread
Classic street dessert in Bangkok and the best of Thailand.
DRINK
O-Liang
Thai style black coffee.
Cha Ma Nao
Thai style lemon black tea.
Cha Dam Yen
Thai style sweet black tea.
Coke Mexico Import (12 oz.)
Sprite Mexico Import (12 oz.)